Article: RV Remodeling Often Goes Beyond the Coach Interior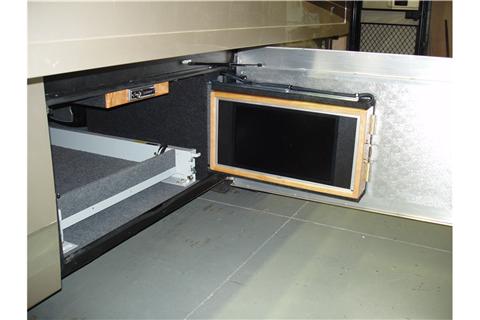 Not all RV remodeling focuses on updating the coach interior. For many customers, making better use of storage space is a higher priority.

Adding a TV, vacuum system, ironing board, cabinets, or anything else to those storage bays can help make your RV become your home on the road.

What is an "RV Remodel"? For most of us, when we think of "recreational vehicle remodel", we think that some sort of remodel is happening within the motor home. Not necessarily! Many times, when you look inside the storage bays of any size class A coach, it looks like the Tazmanian Devil lives there! There could be anything in there, from golf clubs to tools to food supplies!

In most cases, the access isn't very convenient either. You have to be down on your knees, in the dirt, or on the hard concrete or pavement, reaching back in where you can't see very well, it's sometimes easier to just shut the door and go buy another one, rather than endure the pain of the search!


Customer Testimonial
They are both friendly and trustworthy. They are always ready to do anything you need to have done and will work around your time schedule.
Bob and Celia Handley, Coach Owners
If you want to remodel your recreactional vehicle, then you may want to start with a remodel of your storage bay!! You can add pull-out trays, drawers, hangers, tubes, whatever fits your needs, you need RV Outfitters! We can help you get organized, which usually saves you space, so you can actually fit more things into the same space.

But there's so much more you can do with the space down there than you ever imagined!! How about outside entertainment centers? Central vacuum systems, folding chair hangers? Not only can we make your life more organized, but we can give you the ability to really enjoy the space that you once hated so badly!

Give RV Outfitters, Inc. a call today, let us show you how easy being organized can be! Who knows, you might even find something down there you were really wanting to find?!
We are proud of our work
Click on a photo to see our work in different specialty areas.